July 28, 1880
The Birth of an Icon
Hardwick founder and namesake C.L. Hardwick files for the company charter, in Cleveland, Tennessee, and along with his four business partners establishes the woolen mill that would go on to become America's oldest continuously operating Made in America clothing company.
1885
The Spirit & Commitment
After nearly five years of expansive growth, including the addition of a second factory building, the first of four eventual factory fires nearly decimates the entirety of the manufacturing facility of the original woolen mill. Despite these challenges, these events galvanize both C.L. Hardwick's commitment to manufacturing in the South, and the Cleveland community's connection to the Hardwick organization. It is this two-way commitment that defines 'The City with Spirit' to this day.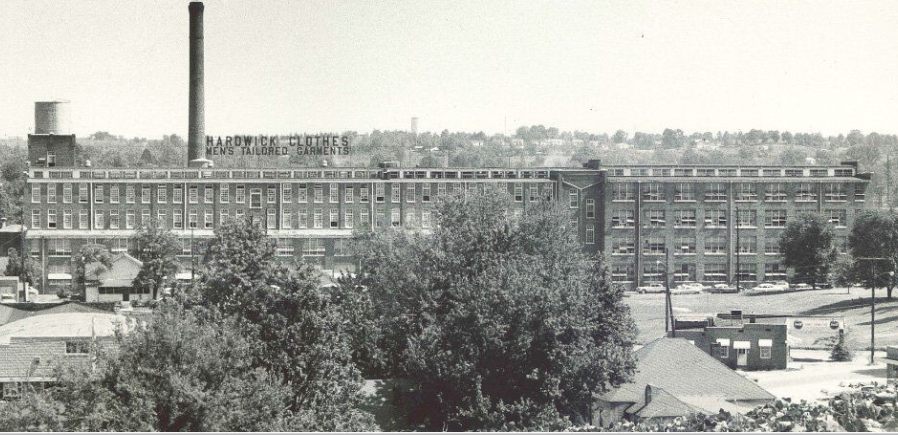 1900s - 1930s
Evolution & Diversification
Transitioning from strictly a woolen mill to a vertically integrated manufacturer of garments, including a name change from Cleveland Woolen Mills to Hardwick Woolen Mills in early 1925, Hardwick evolved at a crucial time in the history of our country. Diversified product offerings, including the initial entree of the 'sport coat' into the American style lexicon, and the inherent cost-controlling benefits of manufacturing ones own fabrics, allowed Hardwick to survive the Great Depression, and emerge as a new company with a growing, consumer-based focus, at a time when men's tailored clothing was both growing and expanding.
1940s - 1950s
Wartime & Beyond
After supporting the country by manufacturing military uniforms during WWII, Hardwick experienced a boom in the ensuing decades. A sea change in men's tailored clothing in particular, brought forth by manufacturing efficiencies and increased personal wealth driven from the new diversity in post-war economic opportunity, drove increased demand for new fits, designs, and makes of menswear. Hardwick assumed a prominent role in this revolution, quickly establishing itself as a leader in a growing and increasingly fashion-focused tailored clothing market.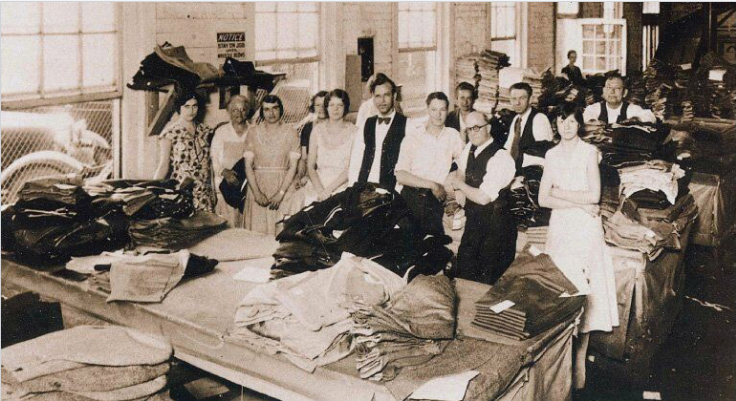 1950s - 1970s
An Emerging Fashion Icon
Hardwick launches the first of many successful national print advertising campaigns, including being the first tailored clothing manufacturer to advertise in then-fledgling Playboy magazine. The iconic men's magazine would, along with other such notable lifestyle publications as Esquire and GQ, serve as the foundation for Hardwick's national brand presence, giving this long-standing company a new voice with fashion-forward Baby Boomer consumers.
1974
Moving & Shaking
Hardwick's decade-long increased focus on design and make creates new horizons: first, the need for a new, modernized home, which opens in Cleveland in November 1974, and second, the culmination of years of advancement with its being awarded "Excellence in Design" honors from the International Association of Clothing Designers in Rome, Italy, considered by many the home to the finest tailored clothing design in the world. This follows similar honors awarded in St. Louis (1971), Atlanta (1972), and Toronto (1973), helping provide the foundation for Hardwick's design archive and our recent re-entry into the fine fashion market.
1976
National Spotlight
Hardwick's connection to the sporting world, and the apex of its national exposure, is cemented with high profile placements as the Official Blazer of the popular World Series of Golf, as well as the on-field uniform of Major League Baseball umpires.
1980
100 Years Young
Hardwick celebrates its Centennial both with a group picture on the sprawling front lawn of corporate headquarters, and later in grand fashion, with a gala event to commemorate 100 years of continuous commitment to Made in America.
1990s - 2000s
Remaining Committed
New challenges emerge in the tailored clothing market, as corporate dress standards relax in the burgeoning digital age. The consumer market divides in two, leaving an ultra high-end premium market of fine European makers, and price point-driven mass manufacturers who, one by one, begin to rely more heavily on cheaper overseas labor to make their products at considerably lower costs. Nearly all other makers abandon Made in America entirely. Impact on the overall quality offered to consumers diminishes significantly, as cost-cutting and profit-driving become the main focuses, and millions of dollars leave our domestic economy for overseas labor markets. Hardwick suffers dramatically from the overall trend, but remains steadfast in its commitment to remaining Made in America, as it has every day SINCE July 28, 1880.
2014
A New Dawn
Spurred by equal measures of hometown pride, an abiding desire to save American jobs, and a keen eye for a diamond in the rough (not to mention a connoisseur's appreciation for the finest in tailored clothing), Cleveland native son and local business icon W. Allan Jones purchases Hardwick Clothes, and immediately invests millions of his personal fortune into an overhaul and update to Hardwick's manufacturing, design, and distribution infrastructure. Guided by its founding principle of belief in the superiority of the American worker, and a deeply-rooted understanding that our country thrives when we use what we make and make what we use, Allan's vision guides our first steps toward true modernity.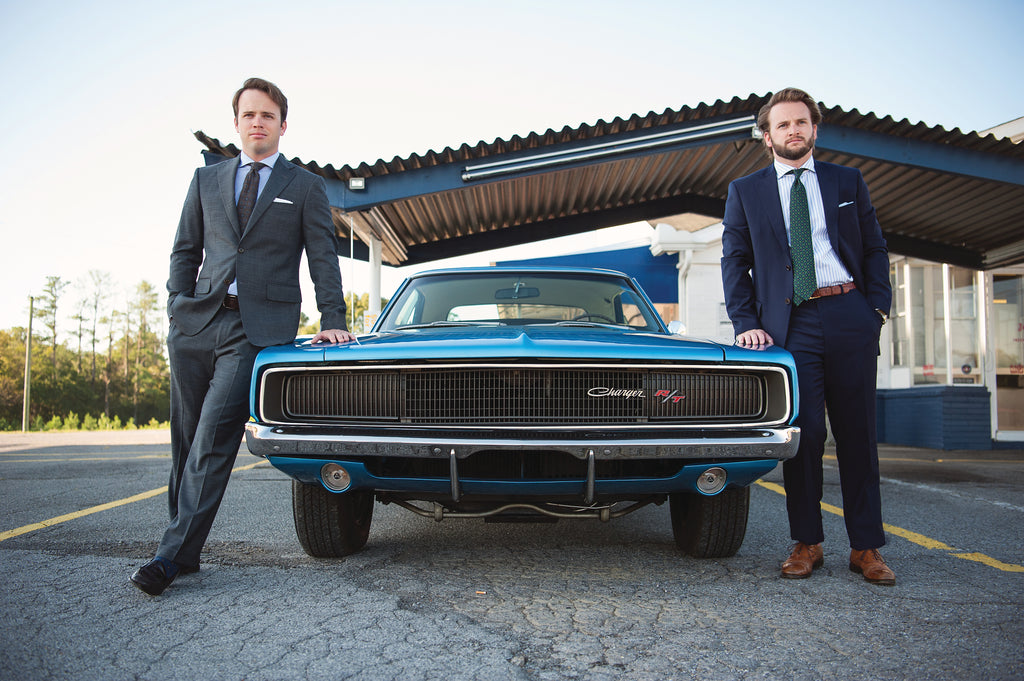 2017
America's Oldest Start-Up
Hardwick continues to evolve in its quest to offer the most impeccably made product, crafted from the finest materials in the marketplace, remaining as we have since our founding 137 years ago: 100% American Made. Relaunching our brand and global flagship website with a nod to both our heritage as America's Oldest Made in USA tailored clothing manufacturer, and our proud Cleveland, Tennessee/small-town-USA roots, Hardwick offers the award-winning best in menswear classics (blazers, khakis, formal wear), Southern staples (seersucker, cotton and tropical wool suits), and the finest in seasonal fashion. We proudly showcase Cleveland in all our photoshoots, and feature our own employees as models. We represent the best of what America has to offer. 137 years old. And just getting started...